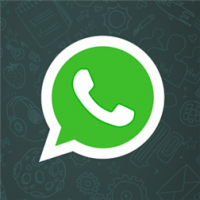 WhatsApp for Android 2.21.20.19
Rating: 0.00 (Votes: 0)
WhatsApp is one of the most commonly used messaging and video calling applications available.
This free messaging software is owned by Facebook and gives its users a method to safely interact and communicate. Because the entire communication process is encrypted from beginning to end, users should not be concerned about their privacy or security when using the program.
WhatsApp has all the standard functionality you'd expect from a messaging software. Users can also send photos, movies, and audio files via the service. In order to use as little Internet traffic as possible, all of these multimedia communications are substantially compressed.
In addition, the program supports group and family chats, and it can also be used to make phone calls to other people who have WhatsApp loaded on their device. Due to the fact that this feature consumes a significant amount of Internet bandwidth, you should only use WhatsApp's call feature while connected to Wi-fi.
Features:
Simple messages don't necessitate a fast connection to the Internet.
Make free Internet-based calls to other WhatsApp users (preferably Wi-fi)
You don't have to worry about using up all of your data on your SMS plan because WhatsApp uses the Internet.
Send highly compressed versions of multimedia items, such as videos and images.
Join numerous people in group chats.
Set up a family chat room on the internet.
Even if you've been offline, you can still get your messages.
Localize and share your current whereabouts immediately from within the app
Based on 0 Votes and 0 User Reviews
Other Apps in This Category