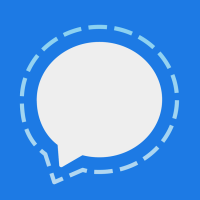 Signal Desktop 5.20.0
Rating: 0.00 (Votes: 0)
This great secure messaging app lets you communicate with your loved ones and share media from your computer or mobile device.
Using Signal's Signal Protocol, which is one of, if not the greatest encryption technique available, users may communicate in a private and secure manner.
Matthew Rosenfeld, the man behind Open Whisper Systems, established the platform in 2013. The Signal Technology Foundation (Signal Foundation) is the driving force behind everything, and it's an independent non-profit with no ties to major IT firms. In addition to the most popular mobile operating systems, such as iOS and Android, Signal now offers clients for Windows, macOS, and Linux.
To begin, download and install Signal on your iOS or Android smartphone or tablet. You must then follow the on-screen directions to complete the registration procedure, which entails entering your phone number (used to receive a unique access code that you must enter within the app) and nothing else. Just remember to keep in mind that the phone number is only used to connect your contacts, and that everything runs through the Internet. Signal only allows communication with those in your Contacts who have the app installed.
Signal Desktop may be set up in just a few clicks on a Windows or macOS computer. Because the app can only identify you by your phone number, you must link your account on Signal Desktop with your phone number. Not to worry, scanning the QR code is as easy as launching Signal Desktop and seeing it displayed when you run the software for the first time.
Based on 0 Votes and 0 User Reviews
Other Apps in This Category