4 min read
Adobe Gives Chrome and Edge Users a Free PDF Editor
According to a blog post by Adobe, users of the Acrobat plugin for Google Chrome and Microsoft Edge can now perform basic PDF editing functions right inside the browser.
October 15, 2021 07:24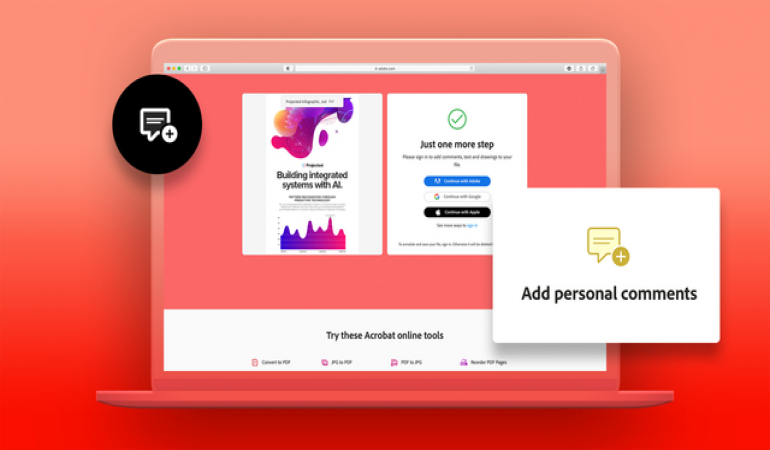 Updated Acrobat extension adds commenting, signatures, markup and other basic editing features from inside the browser according to the blog post.
The above-mentioned functions can be accessed without downloading and installing the full version of Adobe Acrobat. According to Adobe, PDF files can also be edited from within the browser using capabilities like field input and e-signature editing.
Additional capabilities require an Adobe Acrobat DC subscription, although all of the above are free. For a fee, you can edit PDF files in a variety of ways, including converting them to Microsoft Word and back again without losing any formatting information, exporting web pages as PDFs, and more.
Feature images for Excel and PowerPoint export can be found in the blog post but they are not included in this update to the extension.
Is there a snag to this?
Before you get too excited, though, consider the following points. You can't use the free features of the extension to modify PDF texts. Free trials are available to convert several PDFs to Microsoft Word (.docx) format.
Uploaded to Adobe Cloud, then converted and downloaded from Adobe Cloud, the converted documents are now available. As a result, exercise caution when converting anything. When the extension is activated and you open a PDF file, it uses its own native viewer inside the browser to open the file with its local address and all of the PDF editing tools and features. As a result, your browser will use more resources.
Simply go to the this Extension page if you're using Google Chrome or Microsoft Edge. Then select Chrome extension from the drop-down menu and click on it. For Edge, make sure the Google Chrome Web store plugin is enabled.
Then open a PDF document in the browser to see if the options are visible. The menu can also be accessed by clicking on the small Adobe emblem in the URL bar.

That being said, Linux users will especially appreciate these new additions. It would be beneficial to kids, educators, schools, and non-profit organizations alike. These tasks can be completed without the need of any additional software. You may annotate, highlight, make comments, and save as a PDF right from your browser. Firefox users, however, should hold off on making any changes until Adobe makes an official announcement.
* Picture credits: Adobe