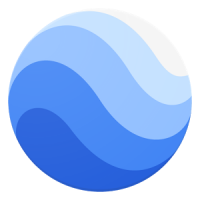 Google Earth for Android 9.151.0.2
Rating: 0.00 (Votes: 0)
Google Earth for Android lets you fly around the world with a swipe of your finger. Explore new horizons or reminisce about the places you used to call home.
The Street View feature of Google Maps has been integrated so that you may see the globe from the ground up. View a variety of different layers, such as highways, borders, locations, and photos. You may find a variety of interesting maps in the Earth Gallery, including real-time earthquakes and planes in flight.
It's easier than ever to find new and intriguing destinations thanks to the "tour guide." Virtual tours from across the world can be accessed by swiping the tab at the bottom of the screen. It's now possible to fly through whole 3D reconstructions of chosen cities, such as San Francisco, Boston, and Rome. You feel like you're soaring over the city when you see every building modelled in 3D. Select gadgets, including most tablets, can display 3D images.
Features:
Swipe your finger across the globe and it moves.
Zoom in and out with a two-finger pinch and rotation.
You can tilt your view by swiping two fingers together.
Zoom in with a simple double-tap of the mouse or touchscreen.
Zoom out with a two-finger double tap


New Features:
The new Photos layer lets you see the world through the eyes of someone else. Using the new Photos layer, which can be accessed from the menu, you may view user-contributed photos from across the world.
Data layers, guided tours, and new places are all part of Voyager's enhanced search experience.
Google Earth may be used to view geocoded Google+ photographs.
For those of you who don't know, Google Maps View from the Street: Street View allows you to see the world from the ground up.
Enhanced navigation and search: As a result of the new 3D navigation features and the updated search results list, you'll be able to rapidly browse through all of your search results.
The user interface has been improved: The redesigned left-hand panel makes it easy to access and enable different levels.
Based on 0 Votes and 0 User Reviews
Other Apps in This Category